Serves 2+
This meal requires a little bit of time – about half an hour- but it is high in protein, healthy, and deeelicious! Absolutely worth it! By being strategic about the food prep, you can time the salmon, broccoli, and rice to be hot and ready to eat about the same time.
Ingredients
fresh salmon, 16 ounces

1 head of broccoli

Zatarains rice

1 orange

1 lime

1 lemon

olive oil

salt

thyme

rosemary

salt and pepper

aluminum foil

Parmesan cheese optional
First, obviously, wash your hands. Repeat this a million times throughout the cooking process.
Then, preheat oven to 350. Gather all your ingredients on the counter so they are ready and easy to grab.
Line 2 pans with parchment paper for easy clean up, then layer with a thin spread of olive oil.
Broccoli
Wash head of broccoli, then shake and blot dry with a clean dish towel. The drier the better so the olive oil can coat the broccoli. On a clean cutting board, chop into bite size little broccoli trees, and evenly coat about an ounce of olive oil on all the pieces. Line out the little trees on one of the pans, with as much surface area as possible. A bunched up pile of broccoli won't brown as well or taste as good.
Sprinkle with sea salt and Parmesan cheese if you'd like. Go ahead and put the broccoli in the oven, and set a timer for 15 minutes.
Rice
Now measure out your rice and water in separate measuring cups. The package will have instructions, but you generally boil twice the volume of water as rice. Begin the water boiling in a covered pot. If you are needing to have fewer carbs for some reason, have less rice. I usually make more so I can have leftovers.
Citrus
Slice half of the orange into thin slices, and save the other half. Repeat with the lemon and lime, keeping the uncut halves on a little plate.
Salmon
Place the salmon skin side down on the other pan. Drizzle about half an ounce of olive oil on the salmon, then sprinkle with rosemary, thyme, and salt and pepper. Finally, place the citrus slices in a pretty pattern on the salmon.
Put the salmon in the oven and check on the broccoli. The broccoli should need more time, so you can reset the timer for about 10 minutes, at which point both the broccoli and salmon should be near ready.
Wash your hands again.
Your water should also be boiling at this point, so you can add the dry rice to the water. It'll quit boiling with the addition of the rice, but will heat up again.
This leaves you with a couple minutes until the food is ready, if you have timed it all right. Don't go too far from the oven because you'll want to keep your eye on the rice. If you are kid- or otherwise responsibility-free during this break, it's a good time to put the spices and leftover ingredients back up.
Salmon should be ready when it flakes easily and is a bit opaque in color. This ended up taking 12 minutes in my oven, so be ready to check it, poke it, and add a couple of minutes.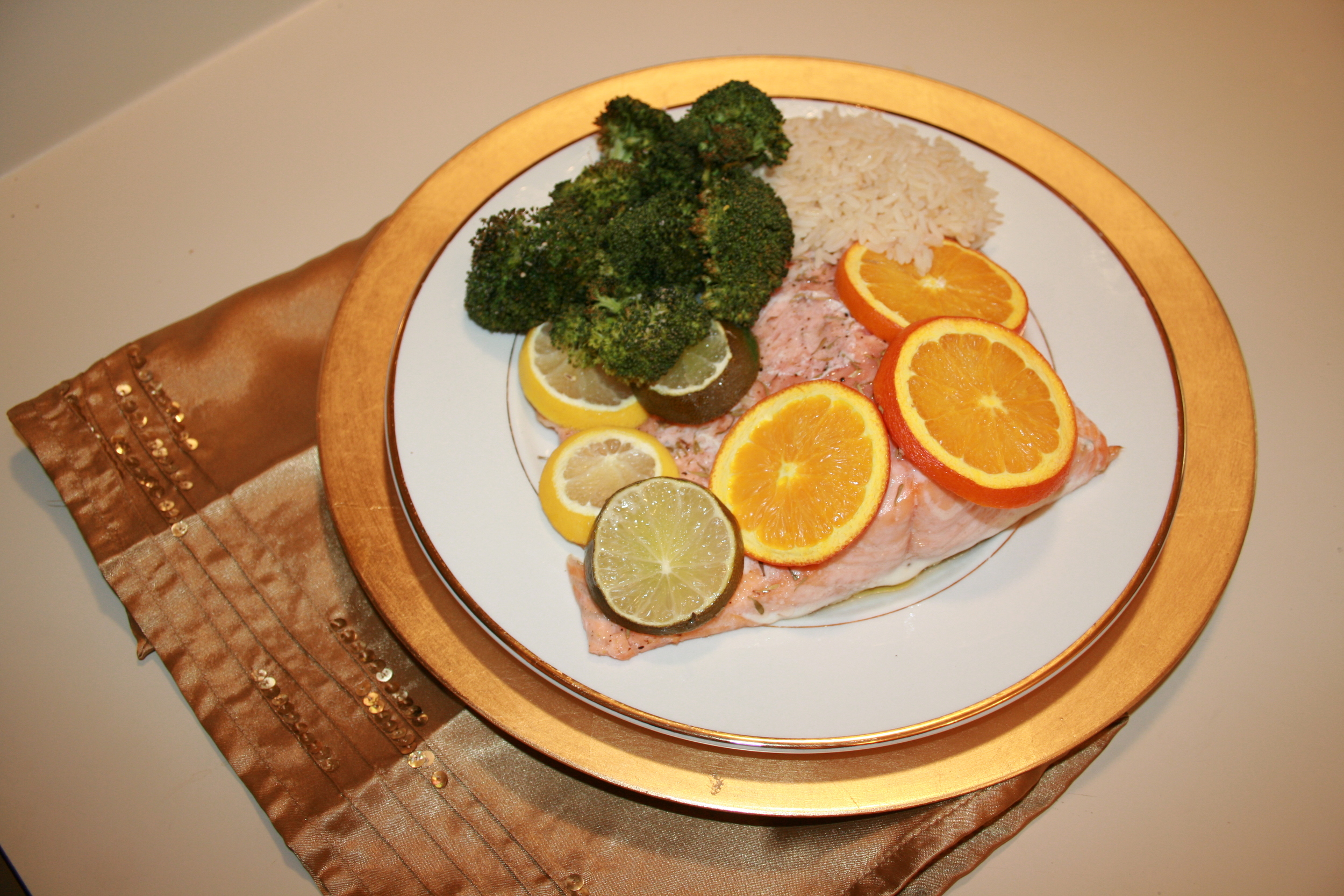 When the rice, broccoli, and salmon are done, arrange them in a pretty set up on your best dishes. No sense in holding back on the good stuff. Lay the salmon down first, and arrange the rice and broccoli on the side.
Squeeze the fresh lemon and lime halves on the salmon before serving.
Half of this meal is approximately
Protein: 51 g

Fat: 10 g

Carbs: 53 g

Calories: 506
Leftovers? Pack it up over ice and have it for lunch tomorrow!
Make this and let me know how it turns out! I love to hear how people make recipes their own. Let me know!